Review: In Astral Artists recital, portrait of the Brothers Chooi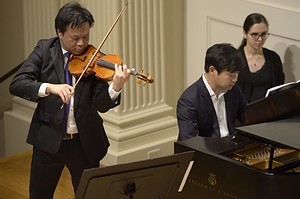 25 October 2017
One of the things you hope for in certain recitals is that a portrait of the artist emerges, and, through both choice of repertoire and force of personality, Nikki Chooi projected a vivid one Sunday afternoon. The violinist's Astral Artists program at the American Philosophical Society uncovered insights into Beethoven and Franck. If the Sarasate at the end of the recital seemed cheap by comparison, at least he sent the audience away feeling lighter.
They were more convincing in a new work, Time Capsule for two violins by Daniel Temkin, a Curtis graduate, produced through Astral's micro-commissioning program. Sweet and simple, the work comes across like a memory stream in an American vernacular — hazy and disjointed, as memories tend to be. One especially lovely section: where Nikki launched into a repeated pattern as Timothy played ardently high above.
The brothers were stylish and passionate advocates for Moritz Mozkowski in his Suite for Two Violins and Piano in G Minor – pleasant, lighthearted music that draws on Mendelssohn and, in its salon-like leanings, sounds like Schumann in a smoking jacket.
One could hardly heap too much praise on the pianist for this concert, Sejoon Park, also an Astral artist (and Peabody and Juilliard graduate). He had a gorgeously clear but rounded sound in Beethoven's Sonata No 3 in E Flat Major for violin and piano and made even greater contributions in the Franck Sonata in A for violin and piano, both with Nikki Chooi. There is great nuance in Park's playing – a subtle pressing forward or hanging back in tempo, and micro-delays at certain arrival points that had all the greater impact for their forbearance. Chooi is a violinist who flourishes at the tender end of the emotion scale, a quality made all the more apparent by the smart choice of a pianist skilled at saying what he wanted to say while careful to never flash a sharp elbow.