Biography
Praised for his powerful and poetic performances, internationally-acclaimed violinist Nikki Chooi has established himself as an artist of rare versatility. Gramophone stated he performed with "total conviction and assurance." Nikki is a Laureate of the Queen Elizabeth and Tchaikovsky Competitions, and was awarded 1st Prize Winner at the Montreal Symphony's ManuLife Competition, the Klein International Strings Competition, and the Michael Hill International Violin Competition. In 2022-2023, Nikki made critically-acclaimed debuts at Carnegie Hall's Stern Auditorium as soloist with the…
[Nikki Chooi] delivered an astonishing performance with a waterfall cascade of rushing emotion combined...To hear this breathless performance was to experience an electric shock of awesome pleasure...
The Millbrook Independent
[Nikki Chooi performed with] "total conviction and assurance"
Gramophone
"Dedication" showcased Chooi's sweet yet full tone as the violin soared over the light orchestration, then led an expressive climax of robust nostalgia.
New York Classical Review
Chooi's warm tone and heartfelt playing were evident throughout. In fast passages, Chooi showed off his virtuosity as his bow bounced rapidly on the strings, a spiccato effect. Elements of jazz and country fiddling were woven into the composition; Chooi made the most of each of these styles...
Sequenza 21
In Janacek's Jenufa: "The solo violin passage [played by Met Orchestra] Concertmaster Nikki Chooi, proved affecting and precise..."
Opera News
Mr. Chooi played it to the hilt. He was obviously having a great time and is clearly a player of dazzling abilities.
New York Concert Review
In [Joan Tower's] "String Force" (2010), a solo violin work heard in a vigorous, colorful reading by Nikki Chooi...
The New York Times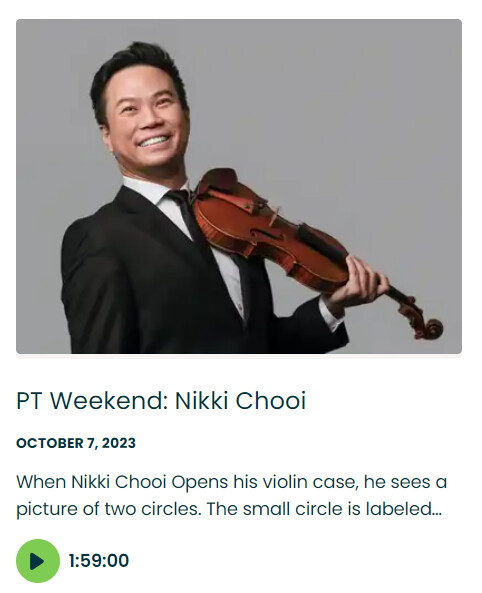 7 October 2023
Performance Today Featuring Nikki Chooi
When Nikki Chooi Opens his violin case, he sees a picture of two circles. The small circle is labeled "your comfort zone," and the bigger circle says "Where the magic happens." On Today's show, we'll hear Nikki Chooi make magic with the Buffalo Philharmonic and conductor JoAnn Falletta.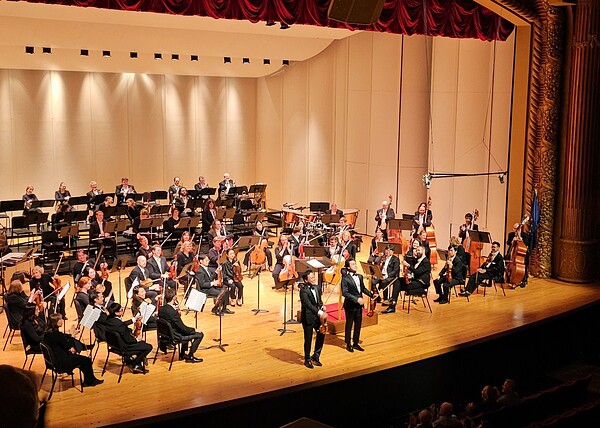 2 October 2023
Chooi Brothers: EPO's first Classics Concert a thrilling performance
The highlight of the concert, however, was the Evansville premiere of the Double Concerto for Two Violins and Orchestra, composed by Sheridan Seyfried for the two soloists, who are brothers. An engaging composition, the Double Concerto opens with a lovely musical figure that is traded between the soloists.
Nikki Chooi | Ravel Tzigane