News: Wonderful to perform in the Chestnut Hill Community. Review by Chestnut Hill Local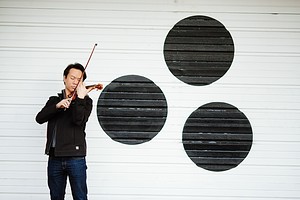 21 October 2017
Friday evening's program opened with Beethoven's Sonata No. 3 for Violin & Piano in E-flat major. Its first half was filled out with Cesar Franck's Sonata for Violin & Piano in A major. Prior to the scheduled Suite in G minor for Two Violins & Piano, by Moritz Moszkowski at the start of the second half, the Chooi brothers gave a pre-world premiere rendition of Daniel Temkin's "Time Capsule." Its "official" debut took place Sunday, Oct. 22, in the American Philosophical Society in Old City.
Nikki Chooi and Sejoon Park were the featured performers in the Beethoven. They offered a light classical sound in the first movement, reminding me that Beethoven had studied with Franz Joseph Haydn when he first arrived in Vienna. It was Haydn who virtually single-handedly "invented" the classical style of the second half of the 18th century and passed it on to Beethoven, who almost immediately set out to expand it into the romantic style of the 19th century.
Both musicians spanned a broad range of dynamics to delineate the first movement's sonata-allegro structure, balancing themes and tonal centers one against the other. They caught the second movement's serene mood without divesting it of rhythmic vitality, then projected the third movement's ebullience with pinpoint stylistic integrity. At the start, Park struggled slightly with the inherently muffled tone of the church's vintage Steinway & Sons grand piano, but by the score's conclusion he was eliciting a varied orchestral palette of supportive tones and timbres.
Franck's justly celebrated Violin & Piano Sonata channels the chromatic idiom and ongoing developmental techniques of Wagner into a concise four-movement piece of chamber music. Both the Peabody Conservatory- and Juilliard School-trained Park and the Curtis Institute- and Juilliard School-trained Nikki Chooi projected Franck's harmonic ambiguity in the first movement, the emotional tumult of the second movement, the rhetorical declamations of the third movement and the sunny mood of the fourth. Chooi's fleet passagework and purity of tuning at the highest registers were potently employed for heightened efficacy while Park surrounded Chooi's playing with a myriad array of colors and textures.
The Polish-born Moszkowski, who lived from 1854 until 1925, was a near contemporary of pianist/composer Ignace Jan Paderewski, also Polish-born and independent Poland's first president following World War I. Moszkowski's music forges a bridge between the styles of the earlier Chopin and the later Rachmaninoff, Prokofiev, Stravinsky and Shostakovich. Timothy Chooi joined his older brother Nikki and Park for a thrilling rendition of the Suite in G minor's four movements, offering a reading that sparkled at the surface and touched a sentimental aesthetic beneath that silken skin.
Temkin's "Time Capsule" makes appealing references to some of Aaron Copland's chamber music in its openhearted expressivity. Nikki and Timothy Chooi gave it a persuasive interpretation.