Interview: From Vancouver Island to the world's greatest concert halls, Nikki Chooi embraces the violin's range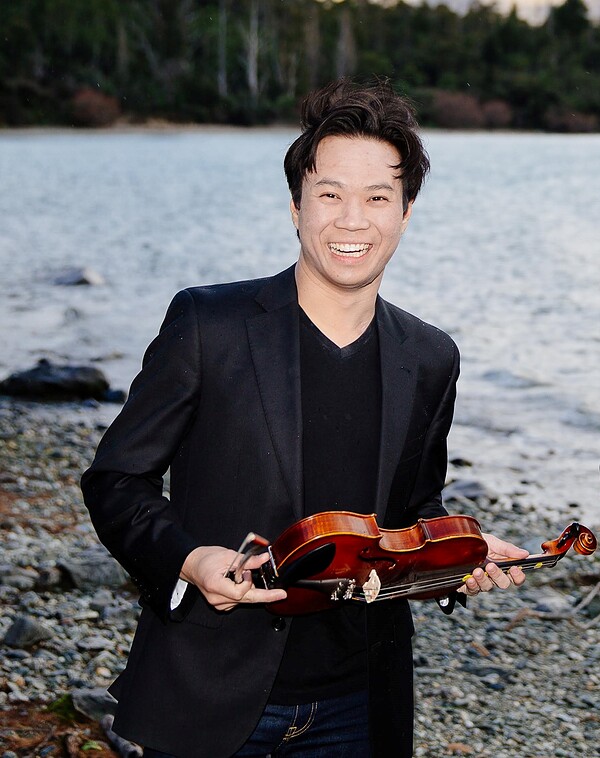 21 February 2022
BC-BORN AND -RAISED violinist Nikki Chooi has performed at many of the globe's greatest concert venues and events, from New York's Carnegie Hall to the Dresden Music Festival to Fundación Beethoven in Chile. Especially versatile in a range of musical styles, the current concertmaster of the Buffalo Philharmonic Orchestra concertmaster—and former concertmaster of the Metropolitan Opera Orchestra—is on the violin faculty at University of Ottawa and has given masterclasses everywhere from the Hong Kong Cultural Center to University of Auckland. It all started in Victoria, where his parents enrolled him in music as well as sports as way to use up his seemingly boundless energy.
"For me, violin started out as an extracurricular activity," says Chooi, who now splits his time between Philadelphia and Buffalo. "I was a very active child so the best thing my parents could do was to keep me busy with a range of activities after school. Along with the violin, I also played soccer and baseball. When I was 13 years old, I participated in the Starling-Delay Symposium held at the Juilliard School in New York City. I was very much inspired to meet and play for my musical heroes including Itzhak Perlman, Anne Akiko Meyers, and David Kim. It was then and there that I told my parents I wanted to be a musician.
"I absolutely love the high registers of the violin when played beautifully," he adds. "The instrument challenges me every day to find a more beautiful sound. It is a never-ending process as there can always be more shades, more depth, to how a phrase can be played."
Chooi, who is about to make his debut with Vancouver Symphony Orchestra, performs as a soloist, chamber musician, orchestral player, opera-pit musician, and as a member of a crossover/bluegrass band, also teams up with his sibling Timothy for the duo the Chooi Brothers. Previously a member of the multi-genre ensemble Time for Three, he and the group collaborated with From the Top and Universal Music to release an arrangement of Taylor Swift's "Shake it Off" to record-breaking views on YouTube.
Having studied at the Victoria Conservatory, Mount Royal Conservatory, the National Arts Centre, the Curtis Institute, and Juilliard, Chooi has gone on to earn critical acclaim for performances at the Harris Theater in Chicago, Kimmel Center in Philadelphia, New York's Kauffman Center, Toronto's Koerner Hall in Toronto, and Place des Arts in Montreal, among others. He has appeared as a soloist with groups such as St. Petersburg State Orchestra, National Orchestra of Belgium, Auckland Philharmonia, Malaysian Philharmonic, and Hong Kong Philharmonic.
He has many fond memories of Vancouver from his youth, including recording for CBC, taking part in the Vancouver Women's Musical Society Competition, and performing at the Vancouver Recital Series, as well as being an avid Canucks fan and taking day trips over with his family to explore restaurants and hit the Metrotown arcade.
For his VSO debut, Chooi will perform Mendelssohn's Violin Concerto in E minor, Op. 64. Under the baton of musical director Otto Tausk, the February 25 and 26 concerts also include the VSO performing Robert Schumann's Symphony No. 2 Op. 61, C Major and Tableau, a new VSO co-commission by Linda Catlin Smith.
Chooi's Vancouver appearance marks a full-circle moment of sorts for the artist: the Mendelssohn Violin Concerto is one of the very first pieces he ever performed with an orchestra.
"When I was 12 years old, I performed the last movement as featured soloist of the Victoria Symphony's annual Splash Event in front of a crowd of 40,000," Chooi says. "To me, the Mendelssohn concerto is everything you look for in a violin concerto: memorable themes, virtuosity, a variety of emotions and mood, and fantastic interplay between the soloist and the orchestra."
Another one of Chooi's career highlights to date was performing the Sibelius Violin Concerto with the Montreal Symphony Orchestra when he was 15 years old. "It was a thrill to perform my favourite concerto with a great orchestra for the first time," he says. "It was also the first time I wore a tuxedo for a performance."
There was performing in the finals of the Queen Elizabeth Violin Competition in Belgium. "This competition is considered the Olympics of the violin competition world, and I've followed it closely for as long as I could remember."
Then there was the time he led the Met Opera Orchestra as concertmaster in Renée Fleming's last run as the Marchallin in Strauss's Rosenkavalier: "The production was also recorded and released by the Decca Label," he says. "It was an honour to be a part of this amazing production."
No matter where he finds himself playing violin, Chooi has the same things on his mind. "When performing, I am always trying to be the bridge that connects the music and all its tangibles to the listener," he says. "I am also aware and paying close attention to what is going on in the orchestra, as performing a concerto is a collaborative event.
"I am thrilled to be making my debut with the Vancouver Symphony Orchestra," he adds. "Growing up and coming from the Island, there was always an extra jolt of excitement to play on the mainland. That feeling is definitely coming back as I prepare for this week, and I can't wait to share my music with the audiences in Vancouver."