Review: JoAnn Falletta, BPO announce newest audio recording, 'The Four Seasons,' featuring violinist Nikki Chooi & Tessa Lark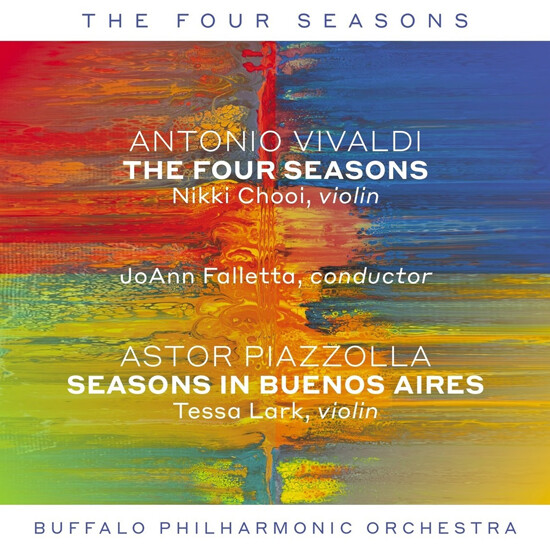 07 May 2021
"The Four Seasons," a new audio recording by JoAnn Falletta and the Grammy Award-winning Buffalo Philharmonic Orchestra, includes Antonio Vivaldi's "The Four Seasons" featuring BPO concertmaster Nikki Chooi; and in celebration of Astor Piazzolla's 100th birthday, "The Four Seasons Of Buenos Aires," featuring violinist Tessa Lark.
Falletta and the BPO recorded both works live in Buffalo's Kleinhans Music Hall this past fall as part of the "BPOnDemand" broadcast concert series. The orchestra performed Vivaldi's "The Four Seasons" with Nikki Chooi as part of the 2020-21 season-opening concert. A perennial favorite, Falletta calls the work "more than music; it became a kind of reassurance, of connection, of continuum. In Nikki's transcendent playing, we all found solace and hope, and wanted to document this performance as a very special moment in our season."
Vivaldi is celebrated as among the greatest composers of the Late Renaissance. He was assigned to the post of violin teacher and conductor at the Osperdale della Pieta in 1709, and it was there he composed the set of concertos that came to be known as "The Four Seasons." The work comprises a set of four "tone poems," each representing a season of the year – spring, summer, autumn and winter respectively – complete with a sonnet the composer wrote. The work is one of the earliest examples of tone poetry and "word painting," a technique that brings to life certain words – like "bird" represented by a trill in the flute.
Later in the season, the BPO performed and recorded a very different "four seasons," set in the steamy tango clubs of Buenos Aires. "Las Cuatro Estaciones Porteñas," or "The Four Seasons of Buenos Aires," was composed by Argentine composer Astor Piazzolla between 1965-70. He uses the rhythmic base of the tango for the work, which calls upon a few brief quotations from Vivaldi. The BPO said, "Soloist Tessa Lark brings her gift for understanding the human heart in a stunning performance."
"The Four Seasons," recorded on the BPO's Beau Fleuve label, is on sale at bpo.org/shop-bpo/recordings, or by calling the BPO box office at 716-885-5000.