News: Buffalo Philharmonic Orchestra returns to Carnegie Hall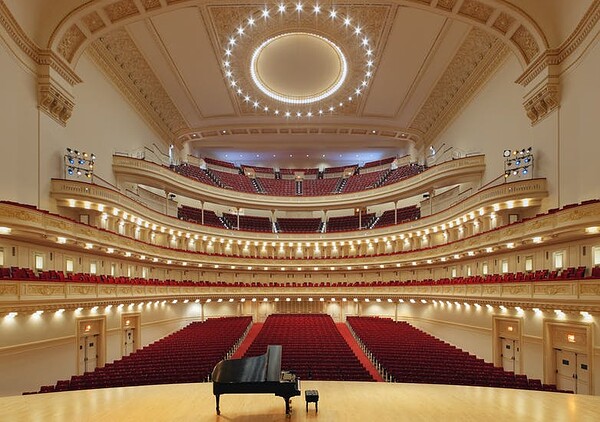 07 June 2022
The Buffalo Philharmonic Orchestra announced a return to Carnegie Hall to celebrate the life and works of one the most important composers of the past century, former BPO Music Director Lukas Foss (1922-2009).
The concert will be co-presented by the music program at Trinity Church Wall Street and Opus 3 Artists. This will be the orchestra's first appearance at Carnegie since its participation in the 2013 "Spring for Music Festival." It follows a long performance history at Carnegie Hall, including numerous concerts in the 1960s conducted by Foss.
This event will be the culminating concert of the BPO's Foss Festival, created in collaboration with the University at Buffalo department of music.
The admission-free concert at 7 p.m. Monday, Oct. 3, is offered as a gift to the community by Trinity Church. BPO Music Director JoAnn Falletta will lead the program, featuring the Choir of Trinity Wall Street and Downtown Voices, along with soloists Amy Porter (flute) and BPO Concertmaster Nikki Chooi (violin). The program will be recorded and released worldwide by Naxos, featuring seminal works by Foss, including his Ode to Orchestra, Symphony No. 1, Psalms 1956, and Renaissance Concerto.
A press release said, "As music director from 1963-70, Lukas Foss revolutionized the BPO, championing the works of living composers and 20th century music. In 1964, he founded and served as co-director of the Center for Creative and Performing Arts at the University at Buffalo, fostering more than two decades of innovative work and performances by the creative associates Foss brought to Buffalo. He was a pioneer in the inclusion of improvisatory and chance elements into classical composition. Throughout a substantial portion of his career, he worked closely with and performed alongside small groups of virtuosic performers to create forward-looking works of electrifying spontaneity."
Falletta said, "Foss's brilliance as a composer made him a conductor who actually became the music, understanding the mind of the composer in a way I had never experienced. We hope that this concert will bring attention to the amazing legacy of Lukas Foss. We are grateful to have the opportunity to make this statement in the world's most celebrated venue and have yet another opportunity to partner with the University at Buffalo for this important project."
Prior to the BPO's Carnegie Hall performance, the festival will include "The Lukas Foss Legacy" at Kleinhans Music Hall at 10:30 a.m. Friday, Sept. 30, and 7:30 p.m. Saturday, Oct. 1. Patrons are invited to preview many of the works to be performed at Carnegie Hall and toast the orchestra before its departure to New York City.
Additionally, faculty performers from the UB department of music, including pianist Eric Huebner, cellist Jonathan Golove, trumpeter Jon Nelson and percussionist Tom Kolor, will present rarely heard, but fascinating music directly from this important facet of Foss's improvisatory chamber music oeuvre, including MAP (Musicians at Play), several unique versions of which exist in the special holdings of the University's Music Library. More information on the performances slated for the fall will be announced soon.
Students in the UB department of media study are creating a documentary film about Foss to show as part of the festival.
Information for tickets and travel packages to the performance at Carnegie Hall will be forthcoming. Interested patrons are encouraged to register for information at bpo.org/Carnegie.
Tickets to "The Lukas Foss Legacy" at Kleinhans Music Hall will go on sale in July. 2022-23 season subscribers can secure their seats now. Subscriptions can be purchased at bpo.org, by calling 716-885-5000, or visiting the Kleinhans Music Hall box office (10 a.m. to 5 p.m. weekdays or 9 a.m. to 1 p.m. Saturdays).